Shopping Cart
Your Cart is Empty
There was an error with PayPal
Click here to try again
Thank you for your business!
You should be receiving an order confirmation from Paypal shortly.
Exit Shopping Cart
Old Trooper Gunsmiths LLC
SPECIALIZING IN MILITARY FIREARMS.
| | |
| --- | --- |
| Posted on April 25, 2016 at 5:25 AM | |
    What?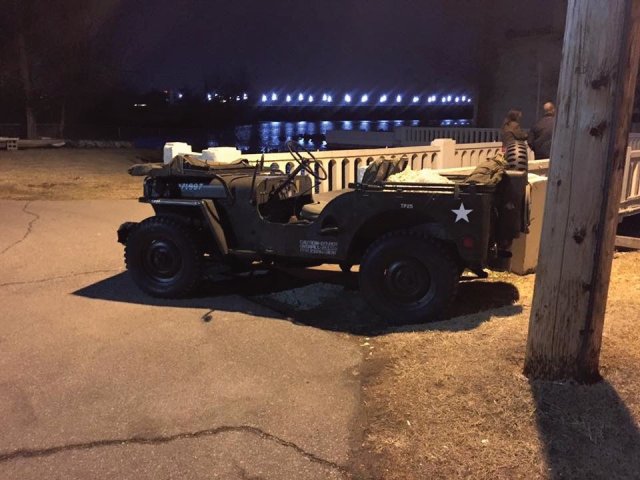 Odd title,
I can figure what your thinking: The crazy gunsmith is going to ramble again. 
      Well, yes and no. It takes a wile to figure out how to put these deep thoughts into an at least a mildly entertaining story. 
     This is Martha. She used to be called "Misty" by her old family. But with us, she is named Martha. Yes, well before the current movies. We had gotten her from a retired reenactor who had lovingly restored the old jeep over a decade ago. He had a daughter and son that helped and are now grown.  And he (the old reenactor) had had the misfortune of injuring his right arm in a major industrial accident. And if you have ever driven one of these little devils, you know you need your right arm to do EVERYTHING! So, he was happy it was going to another home that it would be taken care of and be enjoyed by another family like it had grown up in. We got it at a decent price and had drug it down in a rather..... Eventful journey from Clare Michigan. Let's just say it got back to its birthplace (yes, it was made in Toledo Ohio) via a AAA trailer bobtail wile the pull vehicle was towed separately. So, she came to us in a rather eventful manor to say the least. 
   Once we had winched it off the trailer and into the drive we began to look it over. Rust here. Mangled sheet metal there. Dry rotting tires. Damaged tail light bracket. Holes in the floorboards. Patches of bondo here and there, tearing seats, Dead battery...  Uggg, well I got what I paid for I suppose. Mrs. Old trooper was not happy with how much we, ok I spent in the first place. And we really did not talk it over... Put gas into it, wouldn't you know it: yep it leaked. And the battery would not take a charge.. Well dammit, I chose poorly... 
        A few days later I got a new, giant 6v battery. I had little faith that would work. The old truck had been sitting for a wile, can only imagine what it will need to turn over. So, put it in and closed the hood, put some gas in the tank. What do I have to loose?  A few pumps on the petal. Hit the floor mounted solenoid.  Wouldn't you know it: the darn thing started! And stayed running! 
     I guess it wanted to stay. 
        So the summer "touch up" restoration began. Painting out scratches, retouching the hood numbers. Put a coat of gloss white on the big white star on the hood. Washed it, got out the organic debris.. Got talked into my first car show. With this thing?  It is a clumsy old CJ2a. Why would anyone want to see one of these? This old thing is no where near show quality. We showed up at the event. There were a few other cars that came in. Mustangs, some classic Chevy, and than me.. All of them staring at this homely looking green jeep with this look of apparent disgust.  Turns out, that with the Toledo water crisis the show was canceled. Good, the shabby little thing would not be judged today. So, we drove it home. Stopping at Office Depot on the way. I stayed with the thing due to not trusting it not to catch on fire. So, I sit in the lot in the August sun. Hand on the extinguisher... 
     Than it happened. Had a guy in a mid 80's AMC jeep (pre Chrysler) that was mid restoration. Or at least it looked that way with all the fresh bondo pulls up next to me. He cranks down his window "hey man, nice Jeep". I wrinkle my nose and point to the hole in the passenger floor pan. "This thing?" I asked. "Yeah man, you do not see the old willys this nice anymore, good to see one out and not made into a rock crawler." I nodded and thanked him for the compliment. Said he was off to a good start as well.  For the first time I received that curious two fingered wave and the old AMC drove off. 
    Humm.... Odd...
    We drove it around occasionally during the summer. Had a few similar experiences. It was not until the next spring when it developed a phantom electrical issue and I had several repair places fighting over who got to fix it,  that it finally hit me......
   One of the more important lessons one can learn about ones self and others relayed by a 70 yr old truck. 
       We see our scars. We see our dents, our patches of Bondo, replacement parts, chips, rot and holes. We think badly of ourselves because we think others see all these faults and nothing else. 
      When actually others see just a really nice, unique jeep. Or in our case an interesting, beautyfull person. 
    We own ourselves, we own the jeep. All we see is what needs to be fixed. All the problems. 
    Seldom do we get to step back and look at the whole thing. Not just a sum of our problems and faults. But as a whole, complete package where the whole is greater than the sum of its parts, faults and all. 
      So, we might see you at a car show or two with our little "girl".  I will get to the scratches, I will get to that body panel. But until than, enjoy the jeep: it is the only one like it. And she is ours. 
Old troopers actual.
Out.
Categories: Rant
/