Shopping Cart
Your Cart is Empty
There was an error with PayPal
Click here to try again
Thank you for your business!
You should be receiving an order confirmation from Paypal shortly.
Exit Shopping Cart
Old Trooper Gunsmiths LLC
SPECIALIZING IN MILITARY FIREARMS.
| | |
| --- | --- |
| Posted on March 10, 2015 at 5:10 PM | |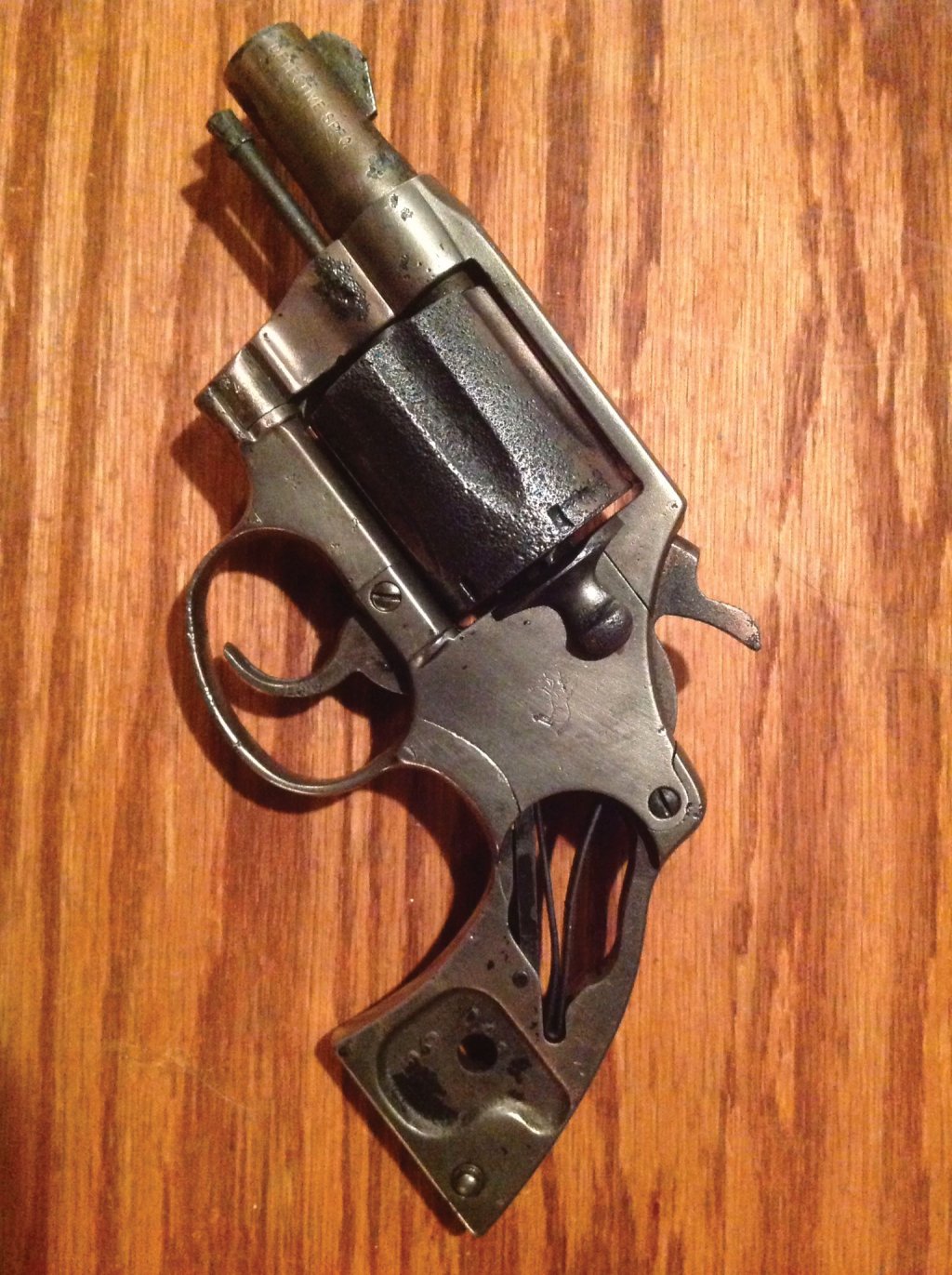 There are few projects out  there that we will not attempt. And a few that we have regretted. Browning BDL's, ruger MK line pistols. But More of the regret angle usually has more to do with the customer than the gun itself. But I have ranted enough about that. Well for now at least.
    But I had one come in that I really regretted. It was part of a lot of work for one customer. Nice guy, no issues with him. The other projects he sent were no problem. Rather enjoyed them. But there was one. A colt Detectives special. This gun Was at one time nickle plated or chromed than after some abuse (The details of which I would later find out) was sandblasted to a uniform (sort of) finish. Well he brings the ting in, says he got it for cheap and did not want to sink a lot of money into it. So wanted a dura coat job. It was a good bead blast job on the thing, so should not be a problem. But this gun had some MAJOR cosmetic issues! There was pitting on the outside of the barrel, the bore was shot out, there was major pitting on one side of the cylinder. No grips and had some minor lock up issues.
      Well If you read many of these you know I am a sucker for a good story. Yes he did get it at a really low price! However, it turns out it was a suicide recovery gun... That is where this twisted tale gets interesting....  The gun had sat, sat for a wile... Most of the nickle on certain sides that were exposed to..... bodily fluids were eaten away. Yet the rest of it was intact. Unfortunately that leads to an uneven finish to coat, blue, or do anything with. Seemed the bead blast just made my job insanely more difficult than would have made easier. SO, under ideal conditions I sprayed our old stand by H&K black. Looked good. It dried. We function checked it.. Than it started skipping time. And failing to lock. Complete tear down... Rebuild: Nothing, same problem. Strip finish. Attempt to blue (we would eat the cost of the blue job) Well it gave me a beautiful blue job on the PITTING!! Tear down.. Reassemble. Not locking correctly, Hand (part that rotates the cylinder) shatters.. Wait for replacement.  Replaced: Still not function correctly:tear down again! Almost get it to function, is at 80%, Sideplate screw goes missing, if it ever had one to begin with. Had to order a costly replacement.. Tear down again. Fit hand more.. Nothing.GUn locked up and cylinder refuses to turn 30% of time..  Customer calls.. Take your possessed gun back! If I were to bill him for time and effort he would be looking at $400 in time alone! So, take it away, we can work out something in trade later! Yet he cannot pick the infernal thing up, keeps getting side tracked.. So it sits... menacing me with its work order from its oil stained plastic baggie....
     In other news, more rifles and a few pistols on the sales rack. Some real curios! And we are working on the "warrior" line of AR15's no frills mid length rifles. Durable, lightweight guns at good prices. Started work on youtube vid.. Hope it turns out ok..
Old troopers actual.....
Out.
Categories: Rant
/