Shopping Cart
Your Cart is Empty
There was an error with PayPal
Click here to try again
Thank you for your business!
You should be receiving an order confirmation from Paypal shortly.
Exit Shopping Cart
Old Trooper Gunsmiths LLC
SPECIALIZING IN MILITARY FIREARMS.
| | |
| --- | --- |
| Posted on September 29, 2014 at 10:58 AM | |
 I know what your thinking. 
You polished a turd. Why would you bother with one of those?

     For many this was their first handgun. For a few it is all they can afford. The oft melighined Hi point has its flaws, yes they are ammo picky. Yes the mags are sort of crappy..  But they have proven to be rugged reliable pistols. Would I trade my 1911 in for one? Hell no, but would I take the hi-point over a knife? Yes! If I wanted something to abuse and shoot my jacked up handloads out of? YES!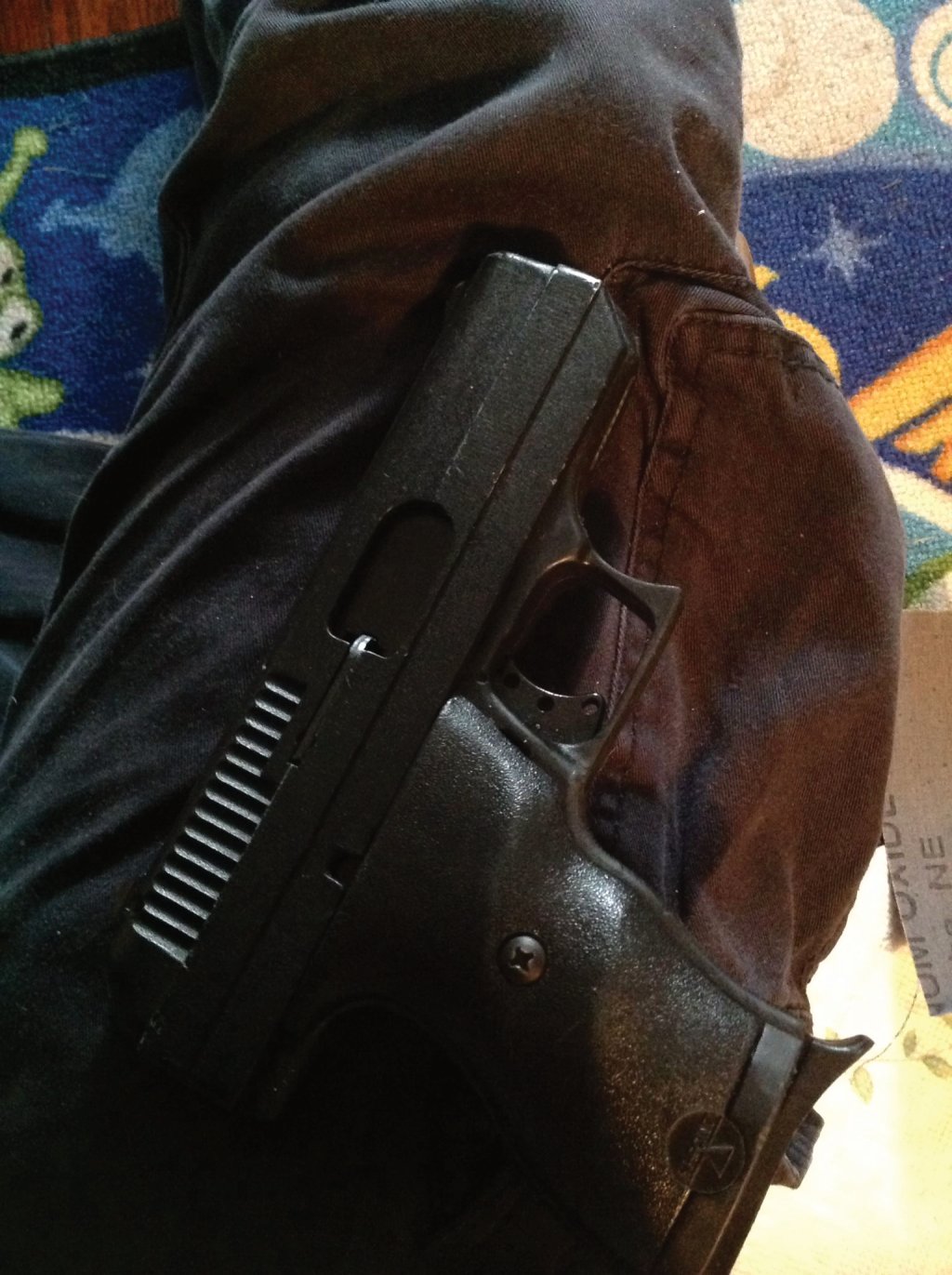 So I Thought, What if I actually took one of these blocky things seriously?
  So, step one. Found one off gunbroker for an acceptable price. Was a little worn. But fire-able.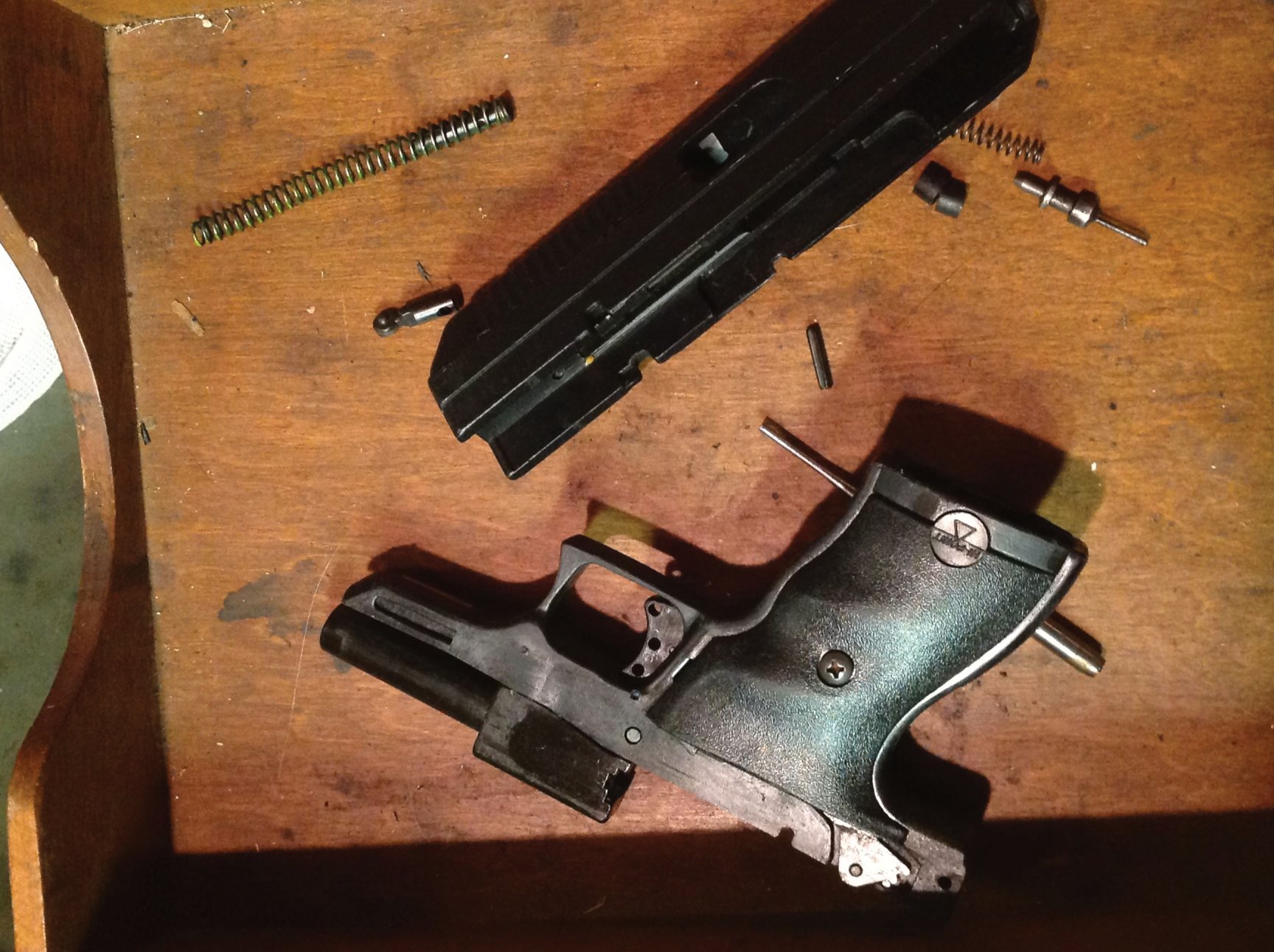 Two: Disassemble
, yeah getting the roll pin out is a big #
[email protected]
#$. This is probably why many of these are never cleaned well. Remove the firing pin and rear block. This area will need a lot of scrubbing.. Lots of crud settles there. 
Step three: CLEAN, clean, clean. These are a pain, but they respond well to being cleaned.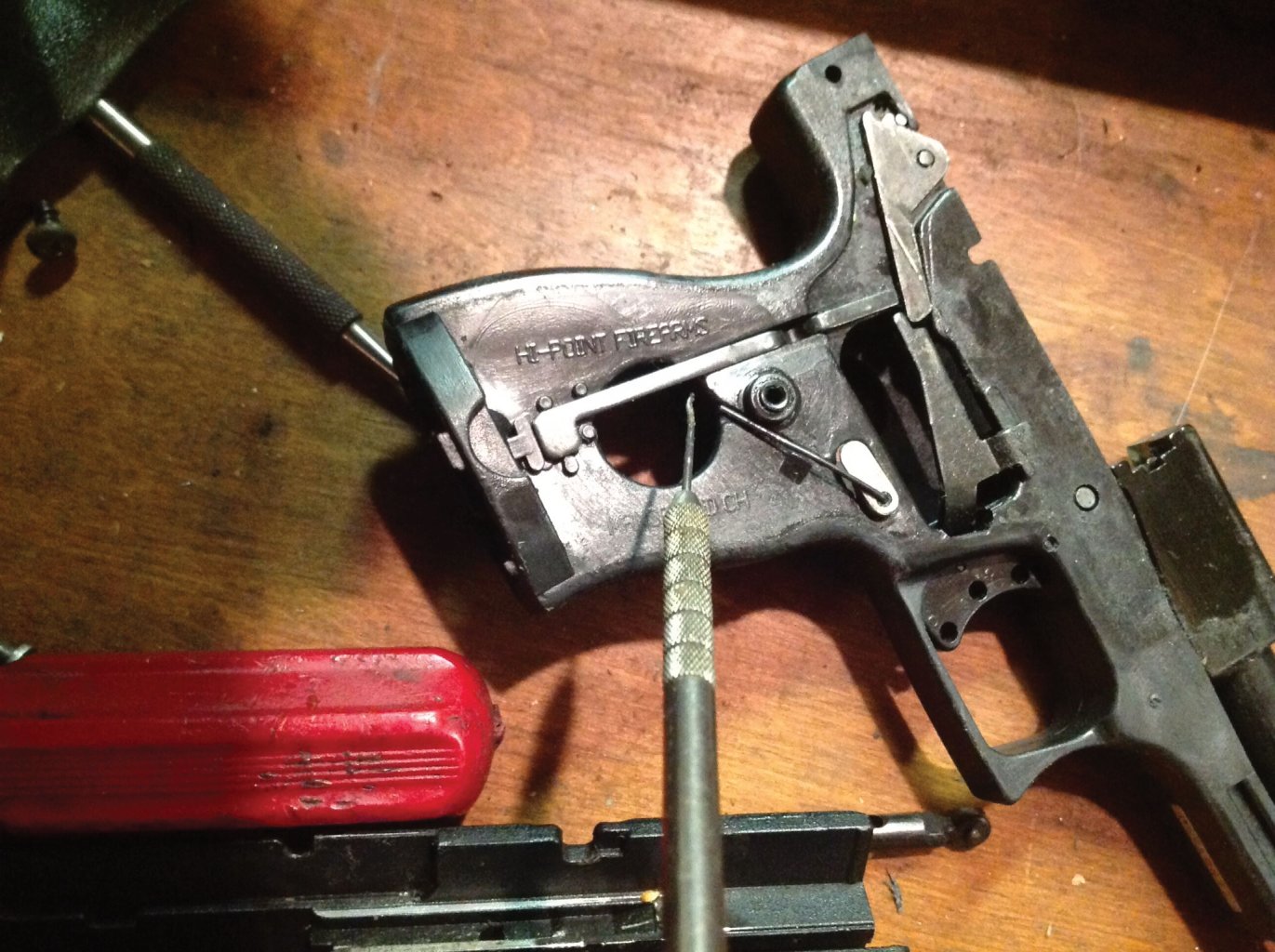 Step four
: Remove the pain in the ass mag safety. Honestly this thing is a pos, responsible for many malfunctions: your better off without it.  Comes out , heck almost falls out easily enough.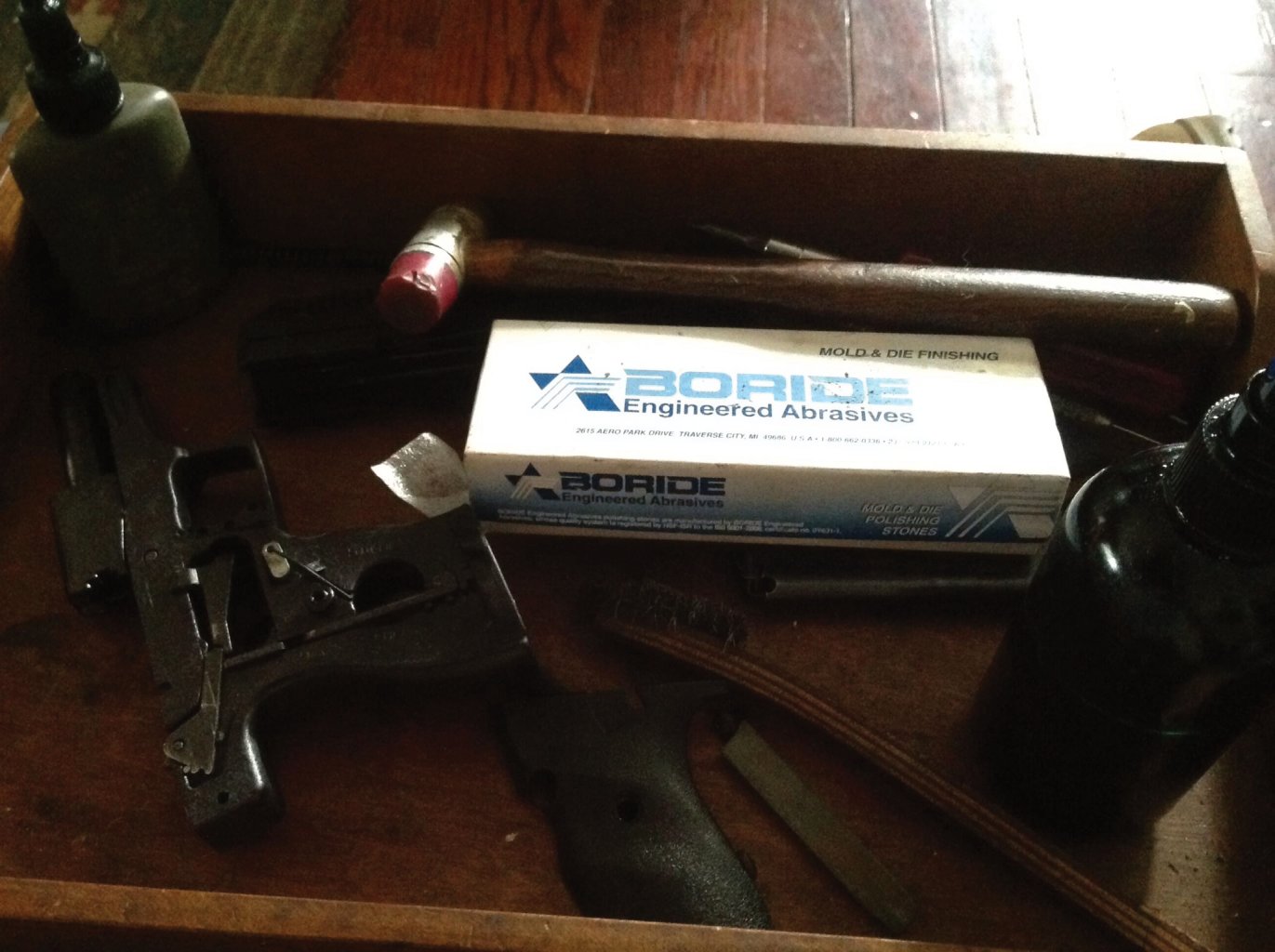 Step five
: This is where the fun begins. the polishing and stoneing. Polish the barrel. Not to much, but enough to make it slide nicely. Polish/ stone the areas where the slide contacts the frame, nice and smooth and clean. Oil that recoil spring wile your at it!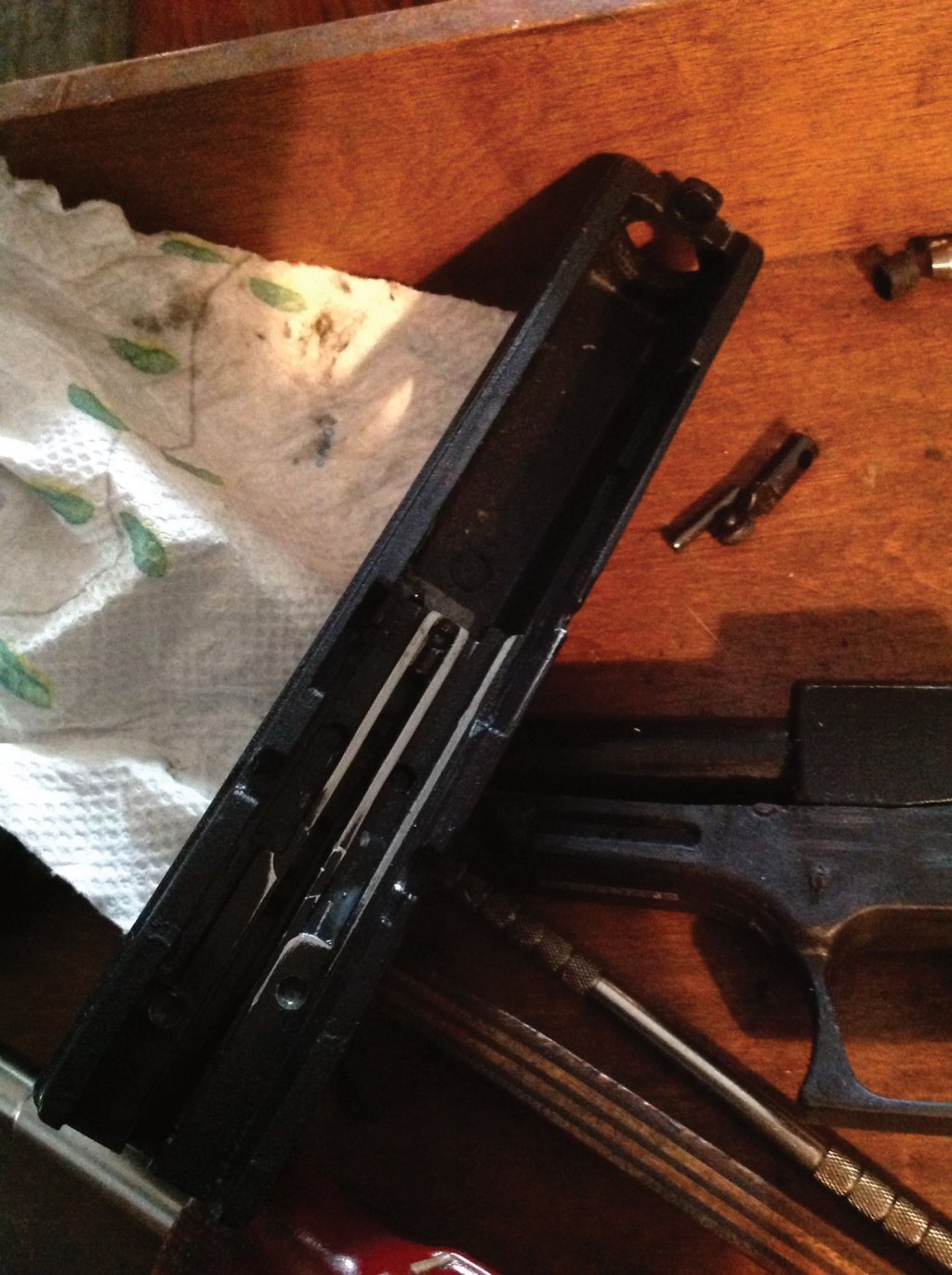 Step six
: This is probably the most important step: The polishing of the feed ramp. This process is what will make many "ok" pistols rock! I will admit, the feed ramp on the pistol as is was pretty crappy. We Stripped it down, polished with emery cloth. Then finished with a fine stone. The sharp edges around the chamber were tapered to ensure positive feed. Good thing about these hi-points is that they have fixed barrels. They never move, unlike most large frame conventional autos. So, the beauty of it, once tuned these become PHENOMENAL!! And, even though it pains me to admit it, yes, they are rather accurate...  Heck, it looks almost like you can put glock sights on these.. Maybe later.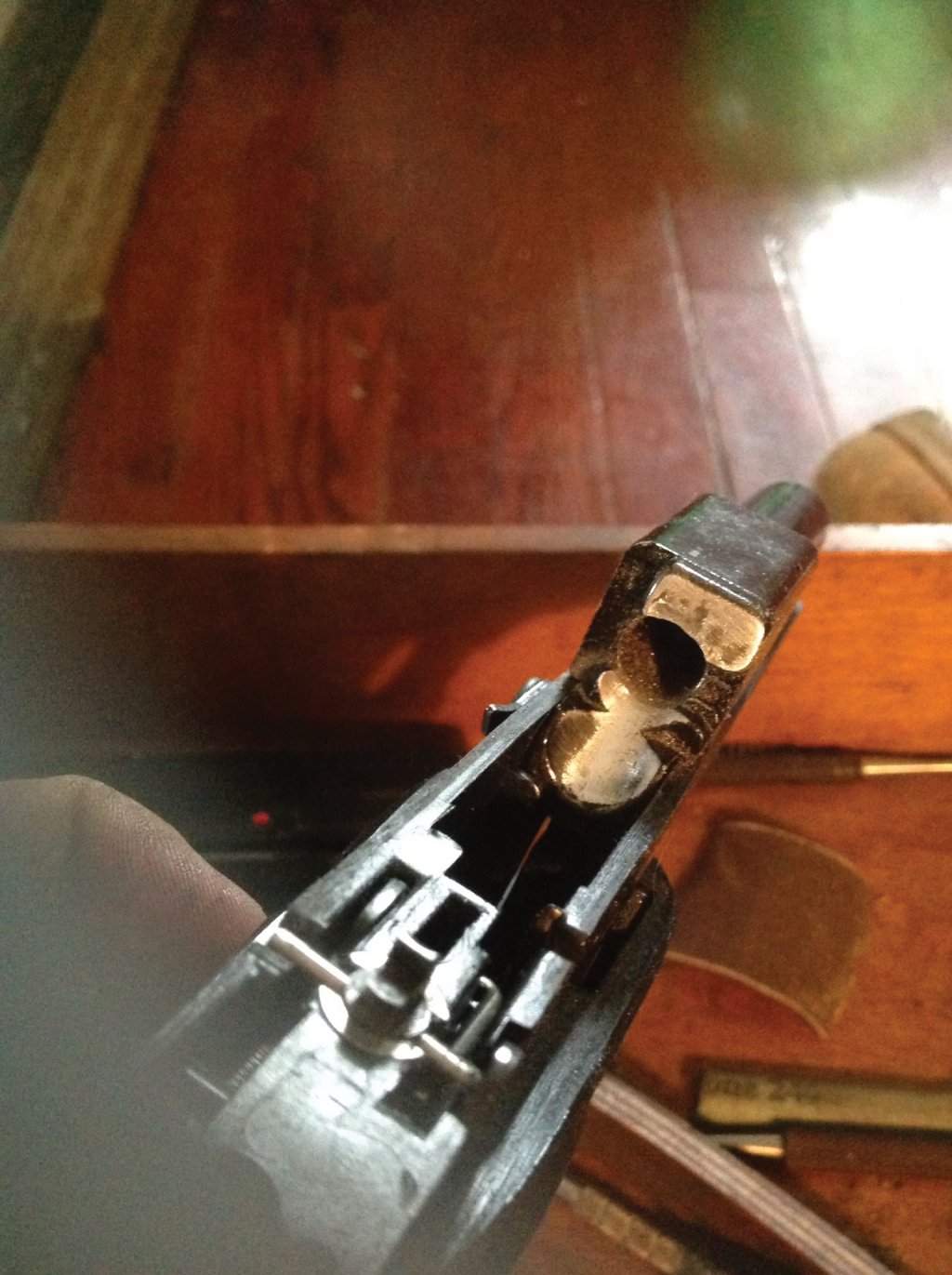 Step Seven
: Reassemble and oil. Clean, function check and enjoy. Hate to admit, they are an enjoyable plinker.
Now if I was a total dushe, would put this up on arms list as a custom tuned hi-point race gun/match/zombie killer/ home gun/ glock/ 9mm/ appocolopse/ gunsmith tuned gun... And want some insane amount for it. Because it is "custom" and "tested" or as we call it in the industry: "repaired" and "used".. Will even throw in a crappy $5 nylon universal holster...

    Yeah,.... no. We traded this one For much less than a new one would go for. I mainly got it to prove that these are not bad guns for the price. Just need a little basic tune. 

 So, all I am saying: give Hi-point a chance!

What is the worse that can happen? can resell it for as cheap as you got it for.

   In other news. We got cleaned out pretty well. Some of my base co workers. Overlord and the Maddi are going out on the payment plan. Not something we do often anymore due to having a "had to have" ar sitting 1/2 paid for for 9 months..  The less than a week old "IDF" Car-15  rifle sold . Did not even make it to the web sight! Sold the .45. Doing good.. Now to get more pistols..  Still have some more target ar's to add to the sales page.

Categories: Gun smith Reviews
/